10″ Ring Light with Tripod and Bluetooth
Whether you're creating imagery with your phone or digital camera there's only so much you can do with the light attached, which is why using 10″ Ring Light with Tripod can drastically boost the quality of your photos and videos. The V-Pro 10″ Ring Light casts soft directional lighting perfect for taking selfies or portraits, applying your make-up, video calls, or content creation. This ring light provides the optimal lighting in any room, with a floor-standing tripod that can be used in any room, including your office, kitchen, or bathroom. The V-Pro comes with a Bluetooth remote, allowing you to control and time your images or videos wirelessly.

Create content like a pro
This 10″ Ring Light with Tripod is perfect for make-up applications, online tutorials,
portraits & selfies, adding color effects,
indoor professional photography/videography, vlogging, content creation,
and even video conference calls. 10″ Ring Light with Tripod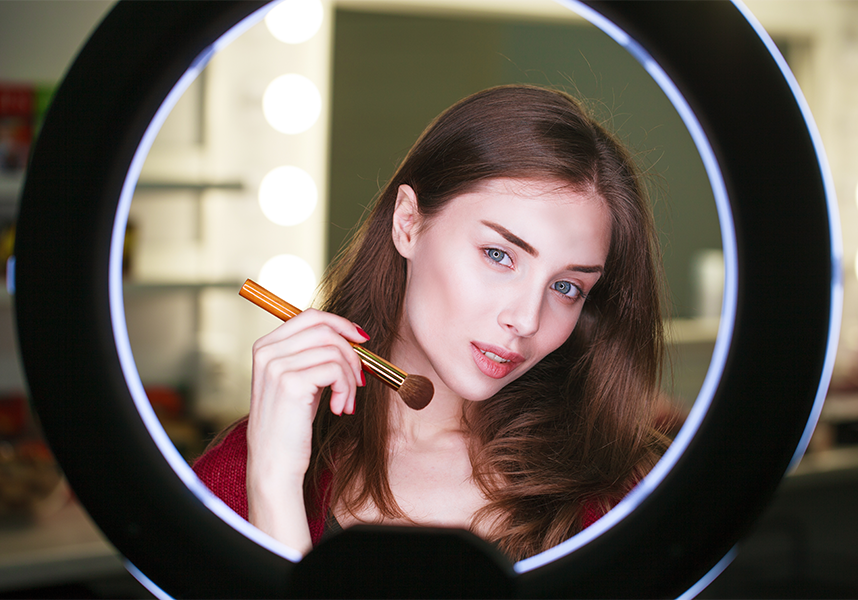 Enhance the look and feel
Have complete control over the look and feel of your pictures or videos thanks to 120 LEDs, 3 color temperature modes, and adjustable brightness levels.
– 3 x Colour temperature modes (Warm white, Neutral white, Cool white)
– 10 x Brightness levels (492 LM Max)
– Colour temperature adjustment 3000K to 6000K

Easy to use
A built-in smartphone mount positions your camera in the center of the light to take
full advantage of the light.
The handy floor standing tripod stand allows you to adjust the position and
height of the light to suit any scenario.
Key Features of 10″ ring light tripod
120 LEDs with adjustable brightness & color temperature
Adjustable selfie stick and tripod with phone and camera holder attachments
360°rotatable phone holder width ranges up to 3.6 inches compatible with most phones
Bluetooth shutter remote syncs straight to your smartphone
Light stand extends to 63″ & folds to 15.3″
10-inch ring light.
3 x adjustable color temperature modes: (1) warm white (2) neutral white (3) cool white
Collapsible design for effortless portability
USB power supply
Daylight 3000K-6000K
Max brightness: 492 LM
Collapsible Metal Tripod
Power: USB power supply
Voltage: 5V
Power: 14W Net Watt